I may never leave the couch again now that I have this NeoHD.
Now you can get a fantastic deal on this Yamaha YMC-700 at just $179.99 you save $320.00!
This is the NeoHD WiFi Media controller amazing deal it was originally 799.99 marked down to 499.99 and with the promo code below you get another $320.00 off!
YAMAHA YMC-700 5.1 CH AV Receiver – $179.99 (after $320 promo code "EMCKFJF28") at Newegg.com, expires 4/20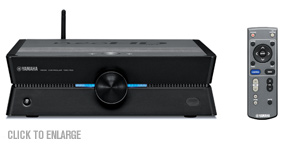 Simplicity is key with the neoHD YMC-700 Media Controller. Say goodbye to the complex controls, settings and connections you would normally find on a standard receiver. The neoHD streamlines your audio experience so all you have to do is sit back and enjoy the 5.1 channel surround sound. The Media Controller features several sound options to accommodate your listening preference, including Position Mode, Wide Mode and virtual 7.1ch mode. Take advantage of the built-in Wi-Fi connection or Ethernet port to enjoy streaming audio with Rhapsody. Your movies and music will sound amazing with the latest Dolby TrueHD decoder that delivers lossless quality. The Media Controller also features dts Digital Surround for excellent audio immersion. Connect your favorite entertainment accessories, like Blu-ray disc players, DVD players and gaming consoles, with four HDMI connections that will upconvert analog video. Enjoy high-definition 1080p resolution with a compatible HDTV.
Setup couldn't be easier. Connect your speakers to the Media Controller and let the YPAO system calibrate your system with the included microphone. Your room will be analyzed and the Media Controller will self-adjust to deliver the best sound for your unique needs. Home entertainment doesn't need to be complicated and with the neoHD Media Controller it won't be. Buy one today
YAMAHA YMC-700 5.1 CH AV Receiver – $179.99 (after $320 promo code "EMCKFJF28") at Newegg.com, expires 4/20